They are always cute, short and in sync!
Beautiful conversations are always short and sync!
I'm up with beautiful content for you this week! Here's what you can find in this week's letter:
A Beautiful Conversation
A Quick Survey
My Routine to Resume
A gentle reminder for you
Web Dev Week @ Think-Digital
Recommendations
A Beautiful Conversation
The day before yesterday, I was amused by a conversation I had with my friend and his wife during our trip to Yelagiri!
Here's the conversation, after seeing a mango tree that reminded me of a small incident:
I started the convo with my friend's wife, "Hey, while we used to work in FSS, one day…".

Interrupting my sentence, she continued, "…when you were waiting for your senior…!".

Three of us exploded into laughter! **end of convo**
Undoubtedly, one of the most beautiful conversations that happened in years!
The beauty of this conversation resides in the fact that my friend and his wife are in super sync! When I was about to convey an incident that happened between me and my friend, she instantly and undoubtedly continued my sentence!
Saying that, yes I was on a trip from Kombai, since 9th June and settled in Chennai, the day before yesterday evening!
---
A Quick Survey
Before you read a few of the things that I'm planning to resume after a short gap from my regular routines, I'd like you to answer this short survey for me!
Thanks, hoping that you have filled the answer above (if not, please do), I'm sharing my routine that I'd like to resume after a week's break!
Content Creation
Daily Mutual Reflection with my Wife
Product Meet @ Think-Digital
Follow-ups with Juniors
Do you have any routines for you that you might have given a pause for a while? If that's mandatory for you and your goals, why not start it today?
Let's catch up if you need any help on that aspect.
---
A gentle reminder
On the above note, I would like to gently remind you that consistency is not about doing a thing every day. Consistency is all about keeping up a frequency to do something. It may be daily, weekly, alternate days, monthly, etc. In addition,
consistency is simply a commitment to one self!
If you remember, last week we discussed consistency in learning! I hope you were able to relate it to your learnings! If you may have any questions or doubts, please leave a comment.
---
Web Dev Week @ Think-Digital
For the first time in Think-Digital, SRM, a week is purely dedicated to Web Domain!

♣️ We focus on upskilling ourselves and helping others upskill as well. We learn and we teach how to build, and that's what we aim to make our network for!

🤳 When it comes to promoting what you've built you need to learn how to sell to others. From Naval's famous tweetstorm, "Learn to Sell, Learn to Build. If you do both, you will be unstoppable"

🧑‍💻 The members of the web domain are focused on building amazing projects, with great skills and experience present to you the TD Web Domain Week (WDW)! 🔥

📑 Specific knowledge on various development topics will be shared for a whole week and the best part is,

IT'S OPEN TO ALL THE MEMBERS WHO ARE INTERESTED IN WEB DEVELOPMENT

📤 We'll be sharing articles and taking sessions from 13-19th June back to back and you don't want to miss this out!
---
Recommended
No matter what stage of your career you are in, you can learn Git and GitHub anytime. So without wasting any more time let's get started with Git and GitHub.

---
If you're a beginner in web development, you might've gotten a lot of suggestions from the net about choosing WordPress over full-stack development and vice-versa.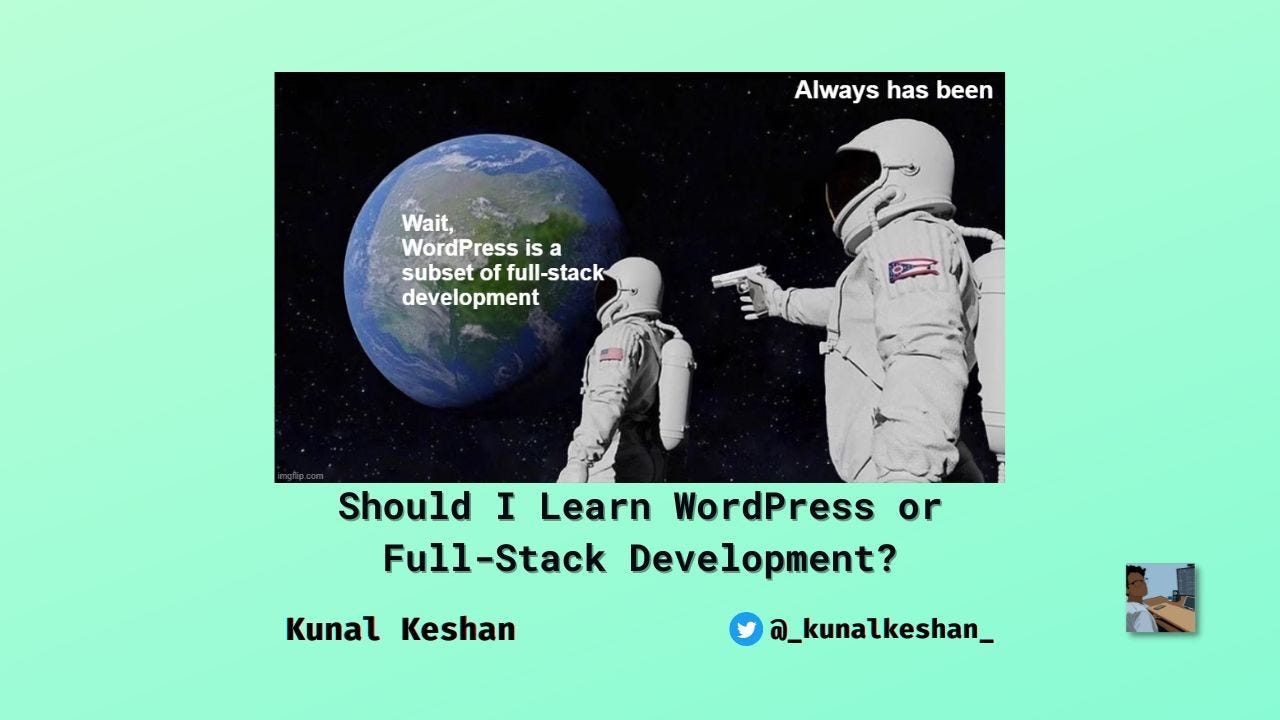 Understand WordPress vs FullStack
---
Hope this letter has added some value to you this week! Take care of yourself and follow your reminders!
Until I write to you next week, tata, bye bye, see youuu…
Love,
gsthina